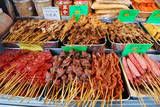 Article Preview
Title: Food galore under one roofLocation: Gurney Drive Hawker Stall, Penang, MalaysiaDate: 22 November 2008, 4.53pmCamera: Nikon D60 with Aperture: f/3.5, ISO Equiv.: 200
People say the best hawker food is in Penang. I have to agree 100%! The food in Penang is authentic, tasty and most importantly - CHEAP. I tried the famous Chow Kuey Teow or Fried Kuey Teow, grilled marinated drumstick, Hokkien Mee, Laksa Mee and Nasi Lemak. Try to avoid those 24 hours cafeteria - normally these places are not dishing out the original speciality and the taste is not as good compared to the hawker stalls.
Title: Marinated chicken Location: Gurney Drive Hawker Stall, Penang, Malaysia Date: 22 November 2008, 5.54pm Camera: Nikon D60 with Aperture: f/5.3, ISO Equiv.: 200
These are marinated chicken meat. I ordered one piece to be grilled. The meat is sweet, tasty and succulent. A MUST-TRY delicacy for chicken lover :)
Title: Nice Indian BanglesLocation: Little India, Penang, MalaysiaDate: 22 November 2008, 5.48pmCamera: Nikon D60 with Aperture: f/5.0, ISO Equiv.: 200

This Little India in Penang is a vibrant place full of surprises! I visited the place late in the afternoon till around 9pm. You can see lots of Indian traders selling traditional Indian food, clothes and jewellery. I bought two packets of 'kacang putih' and brought it back to Kuala Lumpur - it taste so GOOD! Many times better than those available in the Klang Valley.
These are the last few pictures from my recent trip to Penang Island. A short trip but a mesmerizing and an adventurous journey for me. Penang Island (I prefer to name it the Temple Island) is a unique place with trails of historical buildings and majestic temples. My visit to Penang Botanical Garden was a wonderful trip to enjoy nature and 'release' myself from Kuala Lumpur's hectic and stressful live.
I will definitely revisit Penang Island. There are too many places to explore in this little island and too little time I spent to fully discover it. I am going to visit Batu Feringgi, Penang Butterfly Farm, Fruit Farm, Fort Cornwallis and the remaining temples in Penang.
My next destination? Well, if I have the money to travel abroad, I like to backpack to Tibet and India. Wish me luck :)