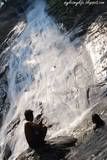 Article Preview
Title: DIVE IN
Location: Gabai Forest Waterfall, Selangor, Malaysia
Date: 13 July 2009, 11:17am
Camera: Nikon D60 with Aperture: f/25, ISO Equiv.: 100
I was mindful of these people on the first waterfall. I try my best not to invade their privacy. Fortunately, this family (husband, wife and two teenage boys) understand the nature of my hobby. They just ignore my presence and keep on splashing and performing some mini dive into the pool :)
Title: The Sound of Music
Location: Nirvana Memorial Park, Semenyih, Selangor, Malaysia
Date: 13 July 2009, 3:36pm
Camera: Nikon D60 with Aperture: f/7.1, ISO Equiv.: 100
These hailers were playing soothing music for the death. The music was audible all over the cemetery. A cemetery normally has an eerie environment. But, it was FUN exploring the place. I know it's strange but the surrounding was BEAUTIFUL & AWESOME! The world's longest Golden Dragon at 1000ft long is located in the park. Initially, I was forbidden by the guards and security officers from taking photos in the cemetery. But, I marched to the corporate office and obtained an oral permission to snap all you want.
I just returned from a trip to Gabai Forest Waterfall and Nirvana Memorial Park in Semenyih. Gabai Forest Waterfall is a nice place but Kanching Rain Forest Waterfall is still the BEST! I spent nearly three hours exploring Gabai Forest Waterfall.
After that, I was on my way driving back to Kuala Lumpur. I lost my way and end up in Semenyih. Halfway driving in Semenyih, I saw Nirvana Memorial Park. I stopped my car and decided to have a short detour to the Chinese cemetery. I was a bit apprehensive at first...not sure whether this is the right thing to do. I saw endless rows of graves and tombstones.
After obtaining permission from a pretty gal in Nirvana's corporate office, I spent two hours snapping photos in the cemetery. The place is heaven and simply beautiful. But......how come a cemetery is blissful? Catch my upcoming post for the answers :) I'm already yawning non-stop.