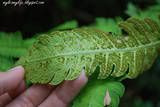 Article Preview
Title: Green Blades
Location: Templer's Park Jungle Waterfall, Selangor, Malaysia
Date: 3 August 2009, 1:21pm
Camera: Nikon D60 with Aperture: f/5.6, ISO Equiv.: 160
It was a hazy morning with gloomy clouds. By afternoon, the sky was sunny and clear. This is a close-up shot of a green plant illuminated by the sunlight. I really love the natural green glow visible on the leaves.
It's been ages since I last visited Templer's Park Jungle Waterfall. I still remember vividly the moment my pop drop me into the pool of water (beneath the waterfall). I was crying like a baby worrying sick whether I was going to float or sink :) I think I was just a 5 years old kiddo that time. I also recall seeing loads of people on the pool. Everybody seems to be 'fighting' for some personal space.
Today, I revisited Templer's Park hoping to recollect those childhood memories. There is a HUGE public swimming pool about 500m from the entrance. Sadly, the water was green and murky. So, I skipped that pool and decided to trek 2.5km into the jungle and explore the natural waterfall.
Templer's Park has one of the best jungle trails in Klang Valley. I saw loads of animals in the jungle...cynolmogus monkeys, adult golden-coloured squirrel, gigantic centipede, baby lizards and hundreds of cute looking insects. Honestly, I didn't expect to see these animals in Templer's Park. I guess very few visitors trek into the heart of the jungle. That's the reason these animals are still thriving in the jungle - minimal human interference.
This is just the intro....More pictures and stories in my next post.