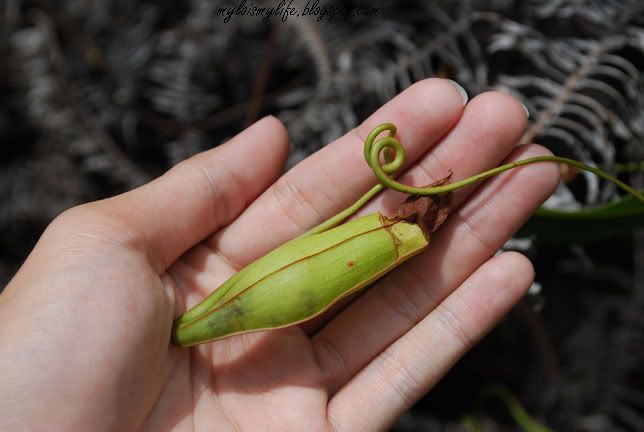 Location: Lepok Rainforest Waterfall, Selangor, Malaysia
Date: 8th February 2010 (Monday), 11:44 a.m.
Camera: Nikon D60 with Aperture: f/7.1, ISO Equiv.: 100
I'm a die-hard nature lover, attracted to anything from exotic plants to adorable primates. This close-up shot was taken in Lepok Rainforest Waterfall, Selangor, Malaysia. The rainforest is a hidden gem amidst all the hustle and bustle of Selangor.
I spent almost one hour scanning the forest for nature goodies. Halfway trekking, I stumbled upon some pitcher plants. This baby green pitcher plant caught my attention. It was a HOT DAY. The lid and rim of the pitcher were drying up.
FYI, the cups are very fragile. The thin extension at the bottom (petiole) breaks easily. I hold this baby gently with my left hand and push the camera button with my right hand.
I LOVE the contrast in this picture. The darker background (mostly dead matured fern leaves) gave a beautiful contrast to both my hand and the pitcher.
There is no right or wrong way to get the perfect picture. You do not need to invest thousands of ringgit in camera equipments. What you need is a little bit of imagination, some creativity and lots of patience.