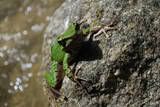 Article Preview
Title: Me and froggieLocation: Botanic Garden, Penang, MalaysiaDate: 23 November 2008, 1.26pmCamera: Nikon D60 with Aperture: f/7.1, ISO Equiv.: 100
BOO-YEAH!!! Here I come, froggie!
Title: What are you looking at?
Location: Botanic Garden, Penang, Malaysia
Date: 23 November 2008, 1.25pm
Camera: Nikon D60 with Aperture: f/5.6, ISO Equiv.: 100
Getting ready for my leap of faith.
A picture of me and this little green froggie. I found a secluded waterfall spot in the botanic garden. I removed my shoes, take off my stockings and dip my tired legs into the falls. It was a blissful and the most relaxing moment in my life. The water flowing down into the stream was icy cold. I spent one hour there. This little froggie was laying still on a big piece of stone by the waterfall. Later the froggie leap and swam against the current to the opposite direction.
The waterfall at Penang Botanical Garden


Penang Botanical Garden - Getting Here:
It is possible to walk to Penang Botanic Gardens from the Weld Quay Bus Terminal. Across cross Pengkalan Weld by the pedestrian bridge, turn left and walk until you reach the junction with Gat Lebuh Chulia. Turn right and walk the distance until you arrive at Penang Botanic Gardens. Click here
http://www.penang-traveltips.com/weld-quay-bus-terminal.htm
More info:
a)
http://www.penang-traveltips.com/penang-botanic-gardens.htm
Penang Botanical Garden Location (Google Maps):
View
Penang: Penang Botanic Gardens
in a larger map