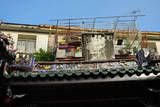 Article Preview
Title: A temple and a flatLocation: Han Jian Ancestral Temple, Penang, MalaysiaDate: 22 November 2008, 8.42amCamera: Nikon D60 with Aperture: f/6.3, ISO Equiv.: 100
This picture was taken in the Han Jian Temple. A residential low cost flat next to the temple.
Title: Door PaintingLocation: Han Jian Ancestral Temple, Penang, MalaysiaDate: 22 November 2008, 8.37amCamera: Nikon D60 with Aperture: f/5.6, ISO Equiv.: 160
This is the first temple I visited in Penang. Lots of conservation and restoration work has been carried out in this temple. A trip to this temple is a MUST for those who are interested to learn more about UNESCO Heritage site. Through these untiring efforts and good results, the Teochew temple was awarded UNESCO Asia Pacific Heritage Awards for Culture Heritage Conservation.
The need to restore the Teochew ancestral temple was realised quite some time ago. In July 2002, a restoration committee was formed. It consisted mainly of professionals from the Teochew community who contributed their time and skill for the restoration project. A dilapidation study was conducted on the temple. On 26 July of the same year, a fund raising dinner managed to collect RM900,000 (US$250,000) for the project.
Through much of 2003, work was in progress to select a contractor to execute the tremendous task of restoring the temple to its original state.Meticulous research conducted both in Malaysia and China to learn the building's history and architecture in order to ensure proper restoration was carried out. As the skill required is not available locally, master craftsmen were brought in from China. This allows for a level of craftsmanship that matches the original standards in terms of materials as well as technique.
Facts in italic are taken from
http://www.penang-traveltips.com/teochew-ancestral-temple.htm
Title: The Mural in the Cheng Soon Keong Location: Inner Georgetown, Penang, MalaysiaDate: 22 November 2008, 12.41pm
Camera: Nikon D60 with Aperture: f/4.0, ISO Equiv.: 560
An interesting large-sized wall mural found in the Cheng Soon Keong depicting 18 of the 36 Celestial Guardians. This picture was taken from the left wall.
These 36 celestial guardians, 18 on each side of the wall, are commonly found in the Southern Fujian temples. Leading them is the "message carrier" who rides on a horse. The celestial guardians of both sexes and in mandarin or military attire. They ride on different animals such as the dragon, the lion and other rare creatures, and each of them is armed with a unique weapon. They are rich, interesting pictorial representations of folklores and art
Facts in italic are taken from
http://www.khookongsi.com.my/
Title: Sin Kang Khoo Clan Location: Leong San Tong - Khoo Kongsi, Penang, MalaysiaDate: 22 November 2008, 12.38pmCamera: Nikon D60 with Aperture: f/4.2, ISO Equiv.: 1 600
Wooden boards with details about Khoo's clan and their achievement - academic and also career success was inscribe and hang in the Ee Kok Tong.
The most important practices in a clan society are ancestral and deity worship. The Chinese believe that when a person dies, he lives on in the form of a spirit or ghost and continues to have influence on his offspring. Therefore, the dead must be worshipped as if he is still alive. Ancestral worship is thus not only an act of commemoration of the ancestors, but also a practice of filial piety. The Ee Kok Tong in the right wing of Leong San Tong is the ancestral hall of the Khoos. In it, ancestral tablets (sin choo pai) are placed according to the ancestors' positions in the clan hierarchy.
Facts in italic are taken from
http://www.khookongsi.com.my/
Title: The LanternLocation: Leong San Tong - Khoo Kongsi, Penang, MalaysiaDate: 22 November 2008, 12.35pmCamera: Nikon D60 with Aperture: f/5.6, ISO Equiv.: 200
A medium-sized lantern on the entrance to the temple. Bamboo sticks were used to shape the lantern. Visible at the background are traditional carving on the temple.
I went to Khoo Kongsi with high expectation - hoping to see extraordinary historical relics and amazing Chinese architecture. Unfortunately, this Kongsi is a total disappointment. I am not impressed at all. Visitors are charged RM5 for entrance fee. Overall, the whole place consists of some pre-war historic buildings, a Leong San Tong - a temple and an opera stage. After visiting a few temples in Penang, I have to say Khoo Kongsi is nothing compared to some other temples and kongsi. The only interesting stuff in Khoo Kongsi are the gigantic traditional wall painting/mural in the temple - nothing else.
The Khoo Kongsi complex consists of the clanhouse Leong San Tong, an administrative building with a meeting hall and offices, an opera stage, and 62 units of terrace houses and shop houses. There are three entrances to the complex: the main entrance is at Cannon Street: the rear entrance, with a decorative archway, faces Beach Street; and the side entrance leads to Armenian Street. The closely-knit building complex is a reflection of the strong centripetalism and solidarity of the Khoos in the past. It also reflects the defensive instinct of the local Hokkien community to safeguard against the inadequate public security during the British rule in the 19th century. Facts in italic are taken from http://www.khookongsi.com.my/