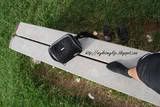 Article Preview
Title: "The journey of a thousand miles begins with one step" - Lao Tzu
Location: 360° Viewpoint at BOH's Estate in Habu, Cameron Highlands, Malaysia
Date: 21 May 2009, 5:44pm
Camera: Nikon D60 with Aperture: f/6.3, ISO Equiv.: 100
I climbed up this concrete bench at the peak of the 360° viewpoint to 'capture' the wind. It was like HEAVEN and I FEEL GOOD.

I've just returned from a 2D 1N trip to Cameron Highlands, Pahang. It was an amazing journey for me. I've climbed Gunung Brinchang [6,666ft], spent some great moment with orang asli/aboriginal community, reached the highest 360° viewpoint at BOH's Estate in Habu, discover mossy forest and more!!!

I felt small after spending some time mingling with these orang asli at their resettlement village. It was meant to be a short trip to explore the place and take some photos. But, I end up talking, chatting and trying to understand their lives. It was a strange and humble experience. The elders and kiddos share their hopes and ambitions with me. It was SURREAL to be there.
I'll be updating full articles soon - I'm feeling tired and sleepy now :)