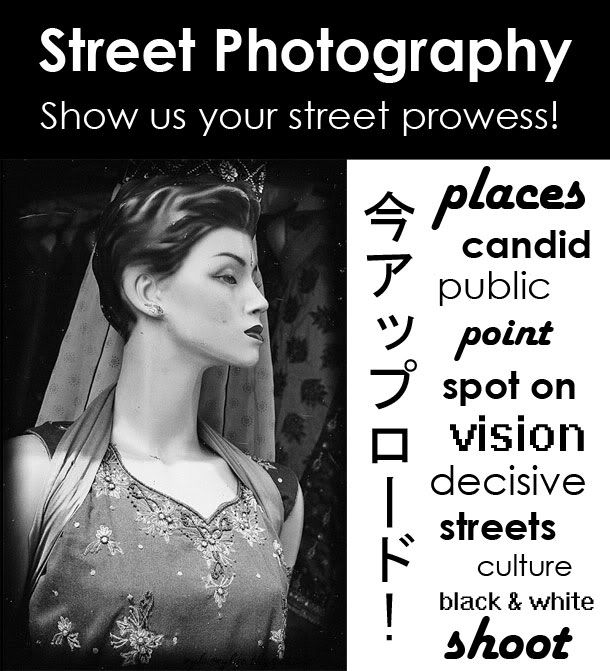 Hot News! The Weekly Photo Assignment is back! Every week I'll announce a new theme, then photographers interpret this theme and upload their own photos in response. The BEST 10 Photos of the week will be featured on MPTB's special iFrame tab aka
✓ The Weekly Theme
, plus an exclusive spread in A Malaysian Photo and Travel Blog.
So how does it work? Easy peasy butter cookies :)
2) Pick a photo that best represents our Weekly Theme
3) Minimum width or height = 720px
4) Write an attractive title and a short description of your photograph
5) Upload to MPTB's Facebook wall
Please remember to visit other entries and make some comments. Comments and constructive criticism are encouraged!
Photo Assignment: Week 5
Theme: "Street Photography"
Submission Date: October 1st - 15th, 2011 [last submission 23:00 (MYT) - Time in Malaysia]
Reward:
The BEST 10 photographers will have their shots featured on
✓ The Weekly Theme
tab plus a spread in MPTB's photo blog. Your name, Facebook, Flickr and webpage URL will be published together with your photo.
My photo blog has consistently rank number #1 on first page of Google for "Malaysia Photo Blog" and rank #Top 20 for "Malaysia Travel Blog".
Results:
All winners will be announced on Oct 16th, 2011. Winning entries will be published on my blog and MPTB's ✓ Weekly Theme iFrame tab.
Last updated Sept 10th, 2011 (7:23 p.m.)